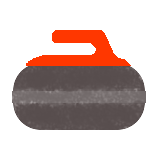 Atlanta Curling Club's 2010 Curling Camp will give the new membership of our club a chance to get to learn to curl and to actually curl in a real arena curling environment. This excellent opportunity has been provided by the kindness and generosity of the Great Smoky Mountains Curling Club (GSMCC) in Knoxville, TN.
Specifics
Edit
How to sign up
Edit
The forms are PDFs with fillable fields, so fill them out and print them, then sign them.
Fill out the Membership Application and write a check for $100 to the Atlanta Curling Club.
Fill out the Curling Camp Application and write a check for the amount shown to the Atlanta Curling Club.
Mail the forms and the checks to the address given on the forms.
Note:
You can now use our
Payment Page
to pay for your membership or Curling Camp via PayPal instead of writing a check.
Note:
Membership is not required to participate in the Curling Camp, but you will get a discount on the price.
Membership for the 2010-2011 season is $100.00.
The price for the curling camp depends on your circumstance:
Adult Members are $100.00.
Student Members (college students with current ID) are $80.00.
Minor Members (under 18) are $60.00.
Non-members are $250.00.
You can now pay for Curling Camp via PayPal at our Payment Page.